Hacking in Bergamo Opening Party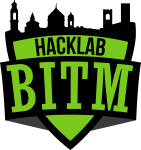 L'hacklab di Bergamo, l'associazione senza scopo di lucro "Berghem-in-the-Middle", è felice di presentarvi la serata di apertura delle proprie attività.
Una serata orientata alla condivisione delle conoscenze con diversi talk specialistici e al divertimento.
Vi rimando al sito dell'associazione con tutte le info e le descrizioni della giornata!
Essici 😉
Tags: Associazione Bergamo Hack, BITM, Iniziative Bergamo, Presentazione Associazione
This entry was posted on sabato, Novembre 17th, 2018 at 02:46 and is filed under
Iniziative
. You can follow any responses to this entry through the
RSS 2.0
feed. Both comments and pings are currently closed.