under_r00t si presenta!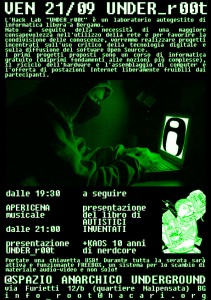 Venerdi 21 allo spazio anarchico underground, l'hack lab  di Bergamo "under_r00t" si presenta!
Durante la serata sarà attiva e funzionante la FreeBox, un sistema moderno per lo scambio di materiale multimediale e non solo. Quindi porta una chiavetta USB così potrai scaricare tutta la musica che vorrai, e allo stesso modo, se hai del materiale da distribuire o condividere potrai caricarlo sulla FreeBox, è praticamente un jukebox moderno che favorisce lo scambio di materiale. La cosa importante da sapere è che il materiale che ci troverai è nocopyright o copyleft o CC (Common Creative). Ci si trova dalle 19:30 e si inizia con un'apericena musicale, il menù è  rigorosamente vegano e vegetariano 🙂 . Mentre dalle 21:00 in poi ci presenteremo ed esporremo le nostre iniziative e i nostri progetti. A seguire ci sarà la presentazione del libro "+KAOS – Il libro sui 10 anni di A/I".
Non mancare!!!
Tags: bergamo, hacklab, iniziative, underground, under_root
This entry was posted on venerdì, Settembre 14th, 2012 at 00:29 and is filed under
Iniziative
. You can follow any responses to this entry through the
RSS 2.0
feed. Both comments and pings are currently closed.